Streamlight Scorpion LED
I must admit, I didn't expect much out of the Scorpion LED. It's a 2xCR123A LuxIII light. Nothing special, right?
Happily, I was unexpectedly impressed by this light!

The Scorpion LED is an aluminum light, with a rubber sleeve around the body. This is welcome news for grip, and if you've ever held a metal light that's been out in the cold for a while, you know that it'll also keep your fingers from falling off when you pick up the light.

In the above picture, you can see the body on the left, with Streamlight's included cells poking out, followed by the light's "neck" (?), then the LA, and then the bezel. That silvery retaining ring has holes for unscrewing, but it doesn't come out. Seriously.
Here's where all the magic happens: the head!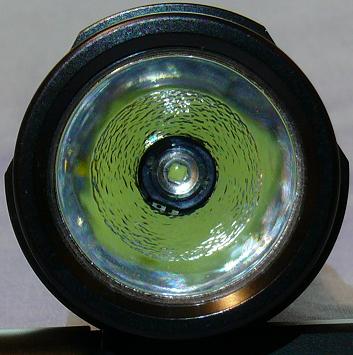 As you can plainly see, the Scorpion LED sports a half-stipple, half-smooth reflector that results in one of the most beautiful beams I've ever seen. How good is it? "Poopmpants" good. Yes, that good. It has a perfectly round hotspot, with a perfect-sized, perfectly round, artifact-free corona, and generous sidespill. The three components are each plainly present, but the transition between levels is creamy smooth. Dang, this beam is amazing.
You can also see the flat facets around the head. These provide good anti-roll.
The switch is a forward-clickie in the tail. It's covered by the body's rubber sleeve.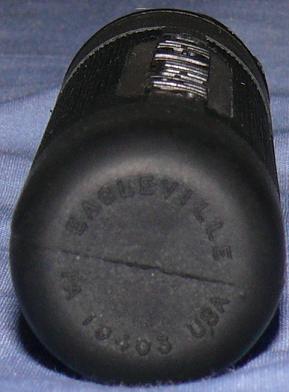 All in all, this light is like a "deluxe" version of the SLPPL4AA. It's smaller, with a better beam, aluminum and rubber, and more stylish to boot. It doesn't have quite the runtime, but it's still good, at 2.5 hours (tested by Quickbeam). I really, really like this light.