TheGreenBeam 532nm 50mW Laser
After many hours of searching through eBay, Wicked Lasers, etc., I came upon thegreenbeam.com. They had the output levels I wanted for a great price ($105 for a 50mW greenie). I jumped on it, and I'm glad I did, because I was one of the last few to get one before the site was sold and subsequently disappeared. I count myself very lucky, but it's tough not to be able to recommend them.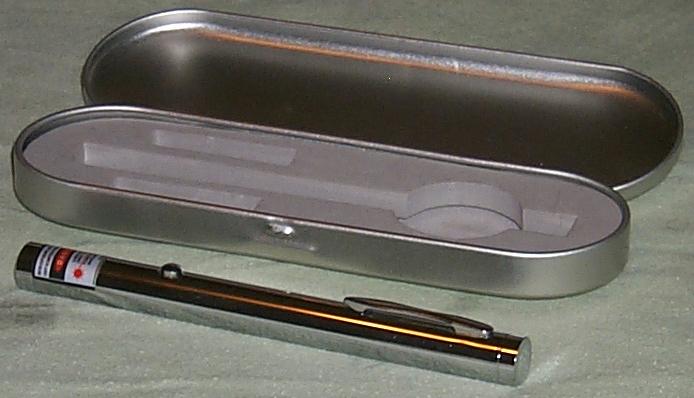 This laser operates on 2AAA, like many (many, many) others. It fires up nicely even with almost-depleted NiMHs, which is a bonus.
This thing is freaking bright. It easily pops balloons, and, given enough time (with on-off cycles), it can cut through electrical tape. The beam is easily visible in all but the brightest conditions, and it can throw an easily visible dot in environments that would absolutely humiliate a common 5mW red laser.

If you know how to increase the exposure length on your camera, you can do things like this:
I'm glad I got this laser, but, well, you can't have one, because they're not sold anymore. Now, if someone discovered the manufacturer and found a retailer for them, that would be awesome, but I don't know the manufacturer of this unit. If you find out somehow, please tell me.