Mag Instrument Flag-Lite
This is a MiniMag 2AA with a patriotic American flag motif. Personally, I think it looks pretty snazzy.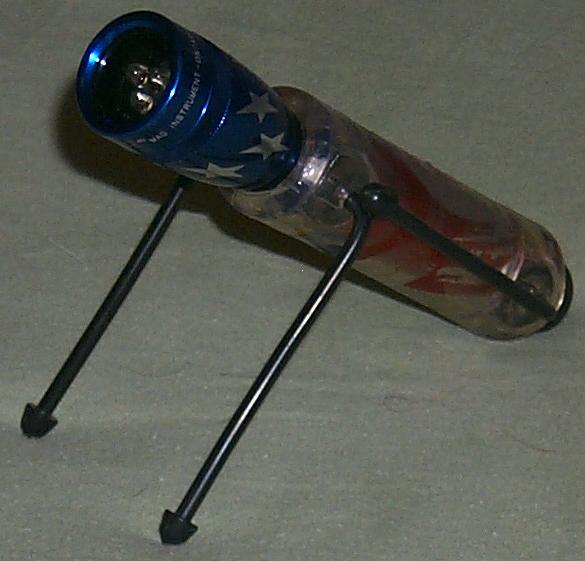 My Flag-Lite is no ordinary MiniMag, though. It contains an Opalec Newbeam LED replacement, a Nite-Ize Flashlite Friend, and a Kroll tail clickie.
The Newbeam provides ten hours of rock steady regulation. However, the output is consistent with 5mm LEDs, having a distinctly blue hotspot and yellow-green corona. Of course, it's close enough to white that navigation is no problem with its floody beam. The Newbeam also has a small red indicator LED that lights up when the batteries can't keep the unit in regulation any longer. However, it only activates when the light is on, so you'll have to squint into the white LEDs and look for the little red one.
The Flashlite Friend is excellent. As shown in the photograph, it can prop the light at various inclinations on a flat surface, or it can be hooked into a shirt collar and rest on the chest, acting as a hands-free light. It's a great addition to any MiniMag.
It pulls 0.22A at 2V, for 0.44W of power consumption.
The Kroll provides a tail clickie. It's not a very reliable clickie at all, but it works most of the time.