Black 4D Mag-Lite
It's a Mag. 4D is a bit long, but it's still within reason.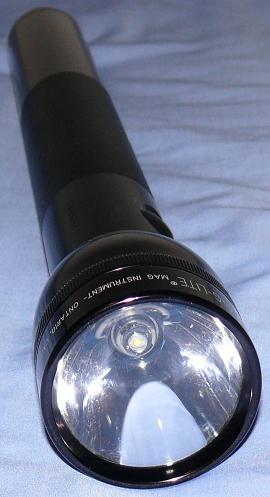 This particular 4D Mag was purchased with a MagLED module installed. There is an enormous amount of information available on these things, so I'll be brief:
They're bright
They're very focusable for throw
They still leave a donut at wide focus
Thermal throttling cuts output in half within ten minutes
They only come in 2-, 3-, and 4-cell varieties
You MUST use the listed number of cells for each module
They're too wide to fit in any PR light except Mags
Runtime is fabulous
These are available at many common retail stores
Below, you can see the Mag body with a D cell poking out, the tailcap, the tailspring, the MagLED emitter module, the bulb collar ring, the head, the reflector, the window, the bezel, and a belt loop ring holster. The ring holsters are sold separately.

It pulls 0.75A at 5.2V, for 3.9W of power consumption.
Once again, it's a Mag. The MagLED module is much better than the stock Krypton bulb.